OPÉRA DE LAUSANNE: ANNA BOLENA 2019
"A timbre of velvet, irreproachable high notes, ductile virtuosity, expressive phrasing, and equally a touching and captivating presence…"
Le Courrier (Marie Alix Pleines) "A diva is born at the Lausanne Opera": Replacing the title role of Donizetti's Anna Bolena, soprano Shelley Jackson has all the makings of a great bel canto singer. A timbre of velvet, irreproachable high notes, ductile virtuosity, expressive phrasing, and equally a touching and captivating presence: the American soprano Shelley Jackson, laureate in 2017 of the 40th International Maria Callas Grand Prix, to the greatest delight of the public the premiere of Anna Bolena Sunday at the Lausanne Opera, spread the wings of a unique talent. A talent all the more remarkable as the bel canto score composed in 1830 by Gaetano Donizetti, on a libretto by Felice Romani, devoted to the first part of a historical trilogy on the royal house of the Tudors, is just as formidable vocally as it is orchestrally sumptuous.
Opera Magazine (Nicolas Blanmont) The cast was dominated by the superb Anna of Shelley Jackson, who was replacing… at short notice. The American soprano had made a strong impression in the role in Karlsruhe last year and she again proved memorable: her voice was rich and rounded across its range and her breath control, coloratura and phrasing were exemplary. Her dazzling vocal performance was matched by powerful acting, and there were moments where she resembled a dark haired Princess Diana. A high point of the evening was her scene with the excellent Giovanna of Ketevan Kemoklidze.
Bachtrack (Laura Servidei) Anna Bolena was Shelley Jackson, whose soprano is supported by a great middle register, velvety and burnished, which explodes in fireworks of brilliant, powerful high notes. The volume of her voice was impressive and exciting, with a remarkable range of dynamics…Her acting was remarkable; she managed to express all the different facets of Anna's personality: the humiliated queen, the abused, terrified wife, the tender lover, the magnanimous ruler who forgives her rival Jane Seymour.
Opéra (Patrice Henriot) Shelley Jackson, laureate of the "International Maria Callas Grand Prix" of Athens, in 2017, had just sung Anna Bolena in Karlsruhe.. With a beautiful appearance, and dignified gestures, the American soprano extends the famous portrait of the sovereign.. As injustice unfolds around the imprudent queen, Shelley Jackson's voice brightens to reach authority and light in the final scenes, where the sometimes guttural medium and low of the first act give way without any doubt to the most aerial ecstasy.
Opera Online (Emmanuel Andrieu) Replacing…, originally planned, the American soprano Shelley Jackson is a very beautiful discovery in the title role, which she has already performed at the Karlsruhe Opera. She has a confident, homogeneous voice over the entire range, with a dramatic low, a sufficiently large and stable medium voice, and a timbre bursting with harmonics that is reminiscent of some of her illustrious predecessors, Leyla Gencer coming to mind ... And if the high is sometimes a little short (but nevertheless accurate and powerful), the vocalization is particularly precise and the colorations varied. In this respect, the extraordinary final scene - one of the highest summits of all musical romanticism - is particularly successful, with an elegant and moving "Al dolce guidami" and an equally impressive "Coppia iniqua".
Le Temps (Julian Sykes) The music is of great beauty, long melodies of infinite suppleness and tearful accents that require a power of incarnation that is not given to all. The American Shelley Jackson hardly wavered in the final scene - even though she had already sung two hours, feeding on a fire that intensifies throughout the performance, able to support the line and invest maledictions with weight. The bottom of the voice may be a bit guttural, but this is a singer with a large range and roundness of an ideal timbre - without artifice moreover - for the role. Claiming a lyrical vein with tragic aplomb, the title role possesses extraordinary means.
Crescendo Magazine (Paul-André Demierre) her timbre first reveals a stony color that becomes much clearer after the first scene; the technique of breath, well mastered, allows her to support the long vocalized 'passaggi' and the 'coloratura drammatica' of the ultimate cabaletta 'Coppia iniqua'. Her character has a real theatrical dimension, demonstrated by the noble restraint that she carries to a finale where her expression gives rise to a palpable emotion.
Analase (François Cavaillès) …the Introduzione already reveals a powerful Anna in Shelley Jackson, capable of sparkling ornaments at the first cabaletta. In the delirious musical atmosphere around the title role, the young North American has the lion's share of the opera. Let's hope that this ample Anna Bolena marks the beginning of international celebrity, as for the composer Donizetti.
ConcertoNet (Claudio Poloni) The cast is particularly young, which is in itself a feat for a bel canto work famous for its difficulties. Replacing the singer originally planned in the title role at a moment's notice, Shelley Jackson has the proud bearing and noble look that suits her character. The American soprano embodies a perfectly credible sovereign, draped in her dignity, which ends up being absolutely overwhelming in the final scene, before climbing onto the scaffold.
Tribune de Genève Corresponding to the sartorial extravagances are the incredible vocal flourishes that Donizetti imposes on the soloists. The cast does justice to this shimmering bel canto that already prefigures Verdi. The powerful voice of Shelley Jackson gains in elasticity and seduction along the way to give Anna's destiny a heartbreaking dignity.
24 Heures (Rene Reymond) Shelly Jackson was a sublime and touching Anna Bolena, especially in the incredibly demanding final 30 minutes.
La Libre Belgique (Nicolas Blanmont) the evening benefits from an excellent cast, dominated by the sumptuous Anna of Shelley Jackson.
BUXTON INTERNATIONAL FESTIVAL: EUGENE ONEGIN 2019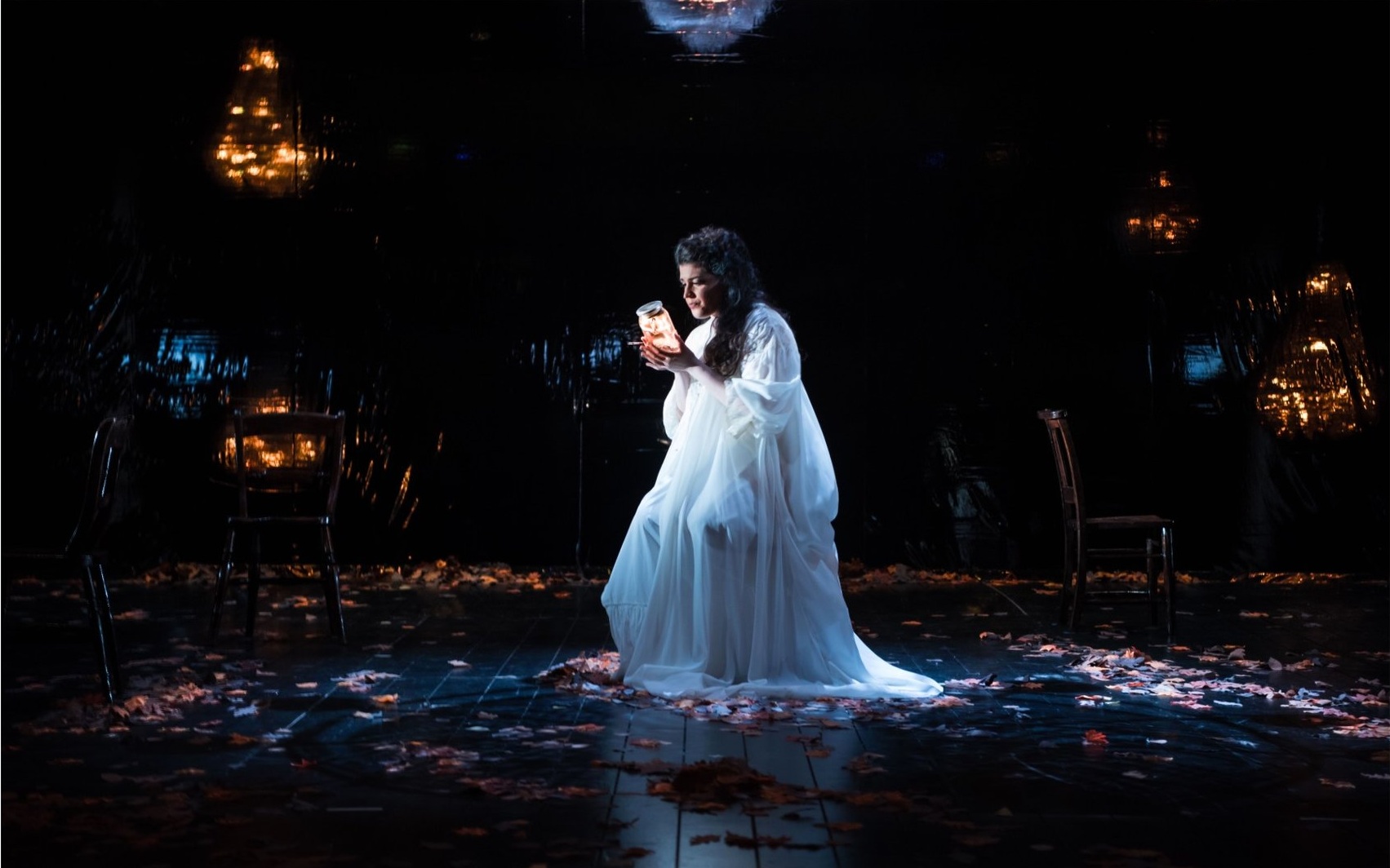 "We were treated to a masterclass of melancholy by superb American soprano Shelley Jackson in the role of Tatyana…"
The Times (Matthew Parris) Never have I been so moved by this opera and, though my partner is on the festival board, I can write this, now that the first reviewer I've read has been blown away too. The soprano Shelley Jackson's Tatyana . . . wow! This is the fourth time I've seen Onegin but the first in which such a spellbinding, gut-wrenching, show-stopping depiction of a woman suddenly, madly, hopelessly and stupidly in love, has shaken me as this did.
Bachtrack (Robert Gainer) I was captivated by the portrayals of Tatyana and Olga by Shelley Jackson and Angharad Lyddon respectively.. In contrast we were treated to a masterclass of melancholy by superb American soprano Shelley Jackson in the role of Tatyana. The first act of Onegin is something of an endurance test for a soprano in this role, but Jackson was up to it, never faltering and delivering in emotion and power in equal measure. She held my complete attention throughout. Nor did she overdo it, saving her very best for the final scene where she really staked her claim as the star of the show. Both of these singers have been accruing accolades recently, with Lyddon being a finalist in the 2019 Cardiff Singer of the World competition, and Jackson runner up in the Maria Callas International Grand Prix in 2017. It is easy to hear why.
The Arts Desk (Richard Bratby) Jackson's Tatyana provides exactly the heart a good Onegin needs; her voice delicate and then tremulous with ardour in the Letter Scene, and rich but recognisably passionate in her final confrontation with Onegin.
British Theatre Guide (Colin Davison) The composer loved his heroine and this is really Tatyana's gig, with Buxton happily importing rising star Shelley Jackson for the role. Hers is a big voice, commanding across the range, but one that throbs with tenderness and, with a strong dramatic personality, she seems set for a major career.
Anaclase (Hervé König) The North American soprano Shelley Jackson, distinguished at the Maria Callas International Competition 2017, offers a very unctuous soprano as Tatyana, whose melancholy, desire and disappointment she brings a high degree of sensibility. The flexibility with which she leads the vocal line is a true pleasure.
OperaWire (Alan Neilson) Tatyana was played by the young American soprano, Shelley Jackson, who is currently building a strong reputation for herself on the international stage. She gave a dramatically intense presentation, which captured the inner conflicts of Tatyana's struggle between her emotional drives, her moral decency and loyalty towards her husband. She possesses a well supported voice, which blooms brightly in the upper register, but to which she is able to add depth through subtle coloring.
The Oxford Times (Christopher Gray) Buxton's opera programme began with a fine home-grown production (under conductor Adrian Kelly) of Tchaikovsky's Eugene Onegin, notable for an affecting Tatyana from Shelley Jackson.
Classical Music Daily (Mike Wheeler) Shelley Jackson catches exactly the restlessness of someone caught between romantic dreams and maturity… she rises to the emotional crises of the Letter Scene, and her final meeting with Onegin, magnificently.
Derbyshire Times (Mavis Kirkham) Shelley Jackson's powerful soprano fitted well the heroine Tatyana as the passionate girl who is rejected by Onegin and as the mature and loving matron who rejects him at the end of the opera.
Notes from Middle England (Chris Ramsden) American soprano Shelley Jackson brought the house down in the taxing letter scene, her voice powerful, precise and flexible.
BADISCHES STAATSTHEATER: ANNA BOLENA 2018
Die Rheinpfalz Pfälzer Tageblatt (Gabor Halasz) The encounter with Shelley Jackson proved to be something of a revelation. In the bravura role [of Anna Bolena] the young American soprano, making her German debut, gave a superbly exciting performance. With brilliantly immaculate coloratura, pinpoint articulation in the passagework and fluid, perfectly even runs she proved herself a bel canto virtuoso who could also captivate with expressive tone. What is more, her musicianship is exceptionally refined, with phrasing, dynamic shading, featherlight soft singing and a range of nuance that marked her out as a singing tragedienne of the highest order. She was just as convincing in Anna Bolena's melancholy lyricism as in her desperate outbursts and, in the second act, her heroic expression of hurt pride.
Online Merker (Udo Klebes) Shelley Jackson's clear, slightly dark-toned soprano proves to be flexible at all times, despite her lush volume of voice and naturally integrated low register, for spinning elegant lyric phrases interwoven with coloratura. The fioratura never seems exaggerated, but moreover enhances the appeal of the musical design by their use. In combination with her tall, slim and attractive figure, in the appropriate robes she cuts a portrait of queenly dignity.
Badische Neueste Nachrichten In the B premiere, Shelley introduced herself as a title heroine who fulfilled all the highest hopes, and not just because vocally and visually she is reminiscent of Kathleen Cassello, unforgotten in Karlsruhe. An engaged artist with a very good technique and moreover a voice of a volume to make her the ideal partner for Ewa Plonka, who repeated her acclaimed Giovanna from the A premiere.
Forum Opéra (Catherine Jordy) Shelley Jackson imposes herself by her stage presence in Anna, which she inhabits with elegance, queenly bearing, and radiant dignity. While in worried tremors, overflowing furor or ravaging torment, the soprano comes out well of the difficulties of the role with a lot of expressiveness.
"Her voice elicits impressive colour and detail…"
SALZBURG LANDESTHEATER: MANON 2018
Das Opernglas (W. Kutzschbach) Responsible for this was above all the young US-American Shelley Jackson, a soprano who was discovered last season not only in her role debut as "Bohème" Mimi, but also at the Badisches Staatstheater with the title role of Donizetti's "Anna Bolena" she celebrated a successful German debut. As Manon, she conveyed the impression of a singer gifted with extraordinary vocal resources, who offers stage presence alongside an expressive performance with intense acting. A rich tone, solid technique and tremendous sensibility all allowed the significant shadings and valid intentions of Massenet's Manon to be brought out… in return "Voyons, Manon" rich with colors and "Adieu, notre petite table" with subtle tone quality become all the better, and even in extreme scaling back of the voice the sound and pronunciation are always clear. Like most of the singers trained in the United States, she threw herself fully into the role with acting and facial expressions.
Der Neue Merkur (Gottfried Kranz Kasparek) At the beginning she plays a young girl who is curious and full of the zest for life, in whose suitcase the customs officers already find a suspicious white sack. In the wondrous farewell to her sweetheart and the little table she can be touching, as a dazzling salon lady of the drug scene she shines with coloratura, in the church she becomes a glistening seductress. Above all, she possesses a captivating, indeed enthralling soprano voice, that sounds fantastic in all situations, with which she can portray poetic introspection just as well as dramatic despair. That this joins to a perfect vocal technique, should lead to a great career.
Salzburger Nachrichten (Florian Oberhummer) Shelley Jackson vocally fulfils the requirements for the title role … Since her national theatre debut as Mimì a year and a half ago, the voice of the US soprano has once again evolved. Moving between a silvery piano and powerful top notes, she sets the coloratura unerringly. Her warm timbre allows her voice to flow rich in nuances.
BR Klassik (Peter Jungblut) American Shelley Jackson is vocally convincing in the title role in Salzburg.
Traunsteiner Tagblatt/ DrehPunkt Kultur (Elisabeth Aumiller) Vocally, Shelley Jackson's Manon has earned herself laurels. With her vivid, clear soprano she revives the core structure of the music. Her strongest moments are in her emotion in the delicately sung "Je ne suis que faiblesse ... Adieu, notre petite table". In the scene of seduction, "N'est - ce plus ma main", when she succumbs to Des Grieux again, her voice elicits impressive colour and detail.
DORSET OPERA: LA BOHÈME 2018
"Leading the cast is Shelley Jackson, whose refulgent soprano imprints Mimi on the audience's collective memory."
Bachtrack (Dominic Lowe) Shelley Jackson was a captivating Mimì, a delicate and charming presence which became deeply moving in the third act. Vocally, she showed well-integrated registers with a beguilingly full lower voice and secure top notes. It's a nicely sized voice, but there's a flair for nimble pianissimo which was sensibly deployed.
The Stage (George Hall) Leading the cast is Shelley Jackson, whose refulgent soprano imprints Mimi on the audience's collective memory.
Opera Now (George Hall) Shelley Jackson's Mimi, Paul Putnins' Colline and Ross Ramgobin's Schaunard were especially notable.